Pair of Subwoofers
In 1996 I designed and built a pair of floor-firing 12 inch subwoofers. The cabinets were designed to function as speaker stands for my Klipsch KG3.2 speakers.
The cabinets are constructed out of 5-ply 5/8 inch void-free birch plywood. All angles are compound. An interlocking "plus sign" support is internally mounted, to reduce cabinet ballooning during use. The cabinets are glued and screwed together with 2 inch long square-drive deck screws. The cabinets are each stuffed with approximately 2lbs of poly-fill. Final seal around all 12 corners, plus the cone, was accomplished using silicone caulking. The cabinets are finished with two coats of sanding sealer and two coats of polyurethane each.
Pyle 12 inch subwoofer cones were used for these models. Each is capable of handling approximately 125W sustained. These aren't the best drivers in the world, but they work relatively well for the price and the application.
Currently, connection to the drivers is established via 5-way binding posts. At one time, I intended to replace these with 4-conductor Neutrik Speak-On connectors, but this never happened.
Instead of using passive crossovers, I used a Loft model 402 active crossover and a discrete amplifier. Optimal results were obtained with a crossover point around 30-40Hz. No major cabinet resonances were found below 90Hz.
On the left is a front view of one of the subwoofers, in normal position (with the driver firing towards the floor). The right photo shows the bottom, exposing the driver, 5-way binding posts and transportation grille. Click either photo for a larger version.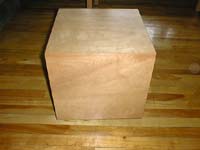 The subwoofers have since been sold to my friend Jeremy for use in his home theatre system.